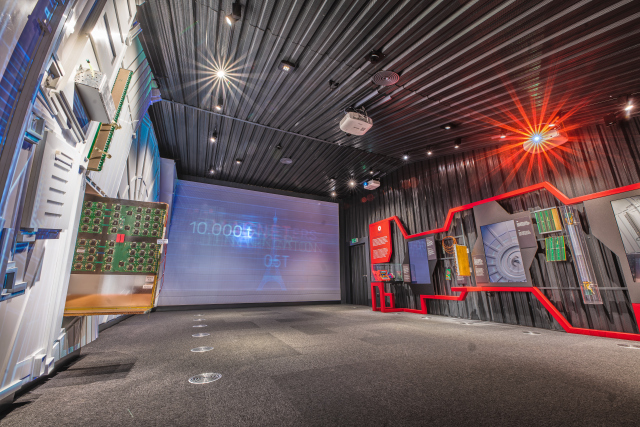 People without a guide are invited to enroll to an Open visit that takes place every Mondays from 4:30pm to 5:30pm.
A visit of the exhibition can be coupled with an underground visit.
The CERN visits services organizes groups visits to the ALICE exhibition from 10:00 to 13:00 and from 15:00 to 17:00 from Monday to Saturday. It is therefore preferable that private ALICE visits are organized during the following time slot: 08:00-10:00, 13:00-15:00 and 17:00 onwards.
Visiting ALICE during COVID-19 pandemic, level 2.
Due to the current situation, surface visits are limited to visitors in possession of a CERN access card.

The visit must be guided by an ALICE guide. In order to become a guide, please consult the Become a guide page.

Maximum number of visitors in the exhibition: 10 (including the guide)

Masks shall be worn and a physical distancing of 1.5m has to be respected at all times
Important remarks for exhibition visits:
The maximum number of visitors per groups is 24 visitors for one guide. The exhibition can welcome at the maximum 24 visitors, for larger groups, divide the group into 2 groups.
The exhibition film is available in 12 languages: english, french, italian, spanish, portuguese, german, greek, polish, czech, russian, korean, and chinese.
*An escort is someone from the ALICE collaboration with access to P2 surface building, who can monitor the visitors who are not down in the underground visitor path
New: For surface/exhibition visits only, the IMPACT is needed only for groups above 40 visitors.