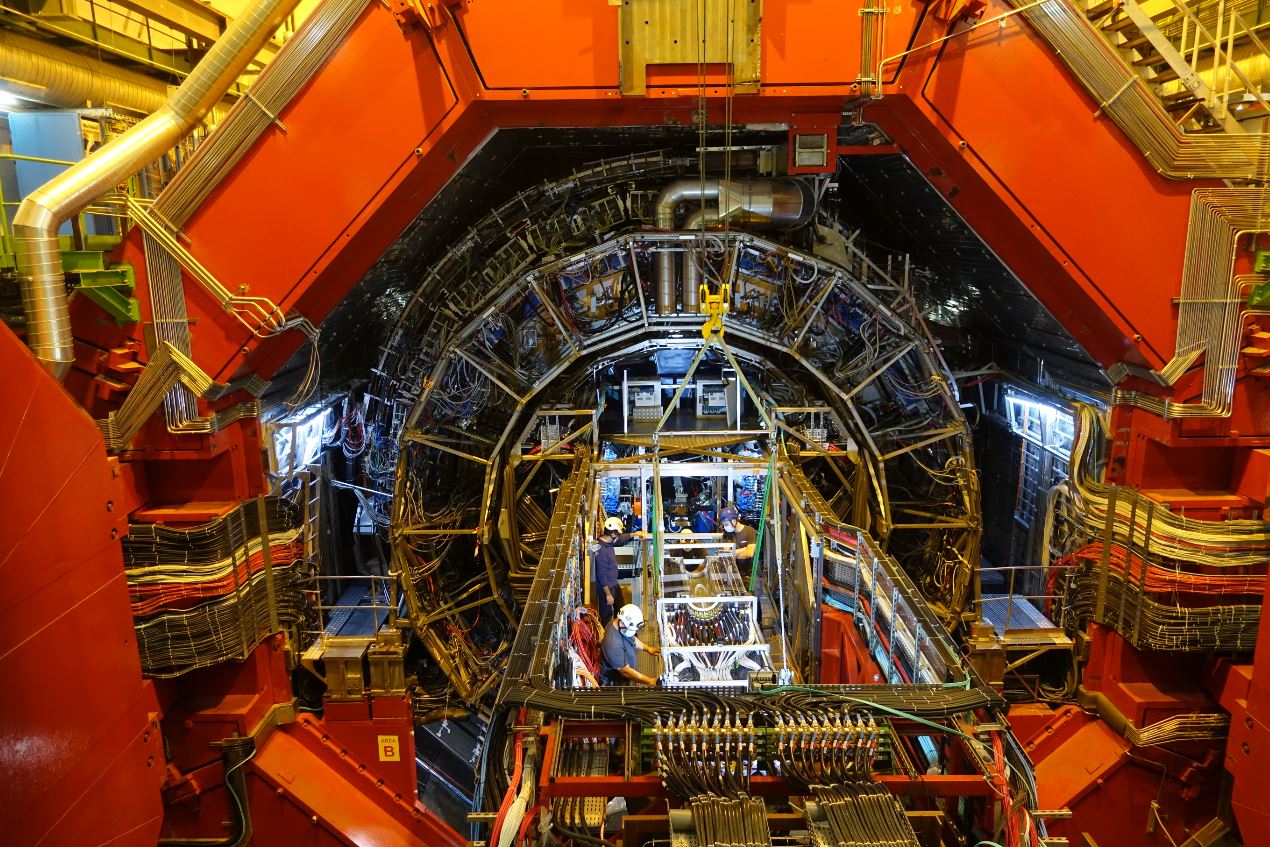 Underground visit ended on March 24th.
Visiting ALICE during COVID-19 pandemic, level 1 green
Professionnal and private visit can take place, including external visitors
The visit must be guided by an ALICE guide.  In order to become a guide, please consult the Become a guide page.

Max number of visitors: 12 including the guide; limit of 5 persons/visitors at a time in the elevator

Masks shall be worn and a physical distancing of 1.5m has to be respected at all times
People without a guide are invited to enroll to an Open visit that takes place every Mondays from 4:30pm to 5:30pm.
Safety rules for underground visits:
For safety reasons, one guide can accompany maximum 12 visitors at the same time inside the Experiment. For groups larger than 12, a second guide is needed to assist the rest of the group upstairs. (or an escort*). The maximum number of visitors underground at the same time is 24.
Please consider that the duration of the visit (e.g. from arrival to departure) must be adapted to the number of visitors:
- 1 to 24 visitors: 1 hour min (2 official guides or 1 official guide and 1 escort)
- 25 to 48 visitors: 2 hours min (3 official guides or 1 official guide and 2 escorts)
- 49 to 72 visitors: 3 hours min (4 official guides or 2 official guides and 2 escorts)
- 73 to 96 visitors: 4 hours min (5 official guides or 2 official guides and 3 escorts)

For safety reasons the max number of visitors presents at once on site (site capacity) is 96. Therefore groups larger than 96 must be split into two or more slots (e.g. morning, afternoon).
The lift capacity is 1000 kg corresponding to a standard of 13 persons. You must foresee 2 descends and 2 liftings for groups larger than 13.
Restrictions: Visitors under 16 years old, pregnant women and visitors with pacemakers are not allowed to take part in an underground visit.
Persons with active electronic implant cannot descend underground, this might be sensitive to weak magnetic fields.
ALICE entrance is equipped with a radiation gate monitor. For this reason, visitors having undergone radioactive treatment can acces the cavern only during CERN opening hours in order for the RSO to deactivate the security alarm. Only radioactive tracer recently done could eventually trigger the Gate monitor at PX24.                                                                                                                     
The ALICE underground areas cannot be accessed by wheeling chair people. A visitor who needs crutches for walking will not be able to visit the cavern because of risk for him in case of evacuation.